Roof Leak Detection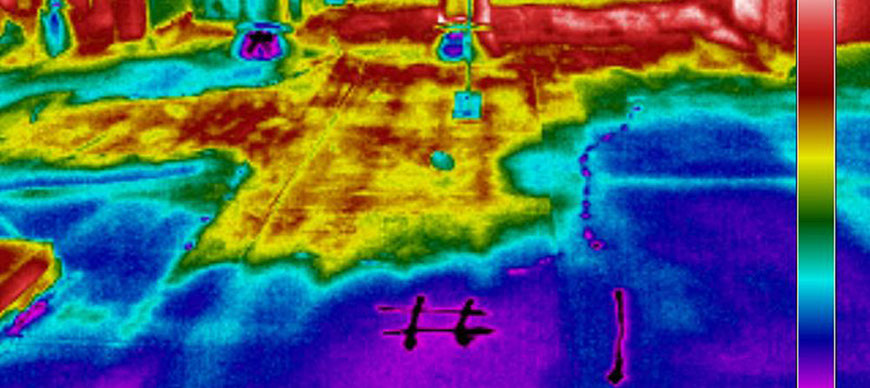 The Roof Repair Line can help you with any roof leak detection needs you may have. We have an experienced team of leak detection surveyors who use state of the art technology to identify the location of leaks as well as their penetration points.
Roof Leak Detection Methods We Use
Thermal Imaging
One of our surveyors will use a thermal imaging camera to identify the location of your leak. This is a non-invasive method of roof leak detection. By using thermography, we are able to minimise any disruption to your property and identify the location of your leak by analysing the difference in the roof's surface temperature.
Wet Testing
A wet test can be used for leak detection. In a wet test water is sprayed across the roof. It is important to ensure the whole surface of the roof is adequately covered in water. Once this is the case a trace cable is laid around the perimeter of the roof. This creates an electrical field.
This allows the detection of the earth leakage point within this field through electrical pulses emitted form the trace cable to our electrical probes.
Dry Test
Dry testing is used on any flat roof or roof with a low pitch to identify punctures and pinholes in the surface of the roof. A direct current voltage will be sent across the roof surface and both a spark and a tone will be emitted from the testing probe to signify the location of the leak.
For the conduction of a dry roof leak detection test, the entire surface of the roof must be 100% dry and moisture free.
The process of dry testing is significantly faster than wet testing.
These testing methods do not only provide the location of leaks but can also be used to confirm the soundness of your roof structure. At the Roof Repair Line our success rate of finding leaks is extremely high.
If you would like a leak detection survey get in touch with The Roof Repair Line or call us now on 01277 375 511 and one of our leak detection surveyors will be happy to help you.