Fibreglass Roof Repair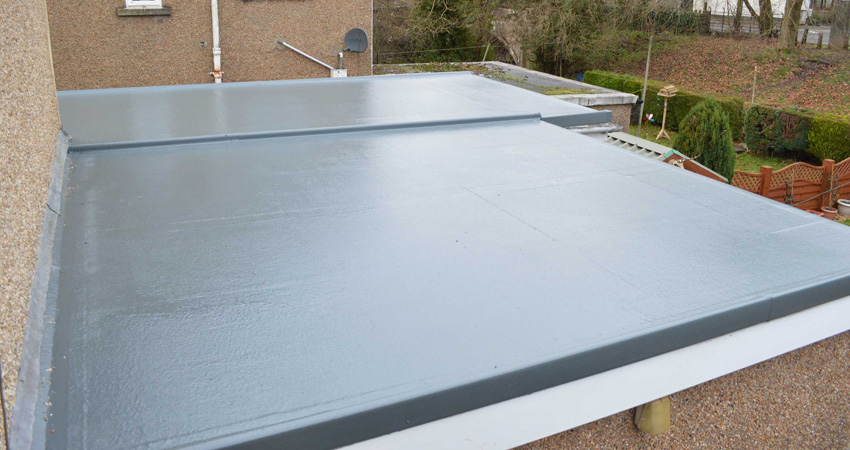 If you need fibreglass roof repair the Roof Repair Line can help you. We are experts in all aspects of GRP/Fibreglass Flat Roofing. Get in touch to speak to us about repairing your fibreglass roof. Or read below to try and identify your problem so you can give us as much information as possible.
How to Identify Problems with your Fibreglass Roof
Fibreglass Roofs are prone to some common problems. These problems are:
Ponding
Despite having excellent waterproofing properties, the pooling of water on the surface of a fibreglass roof is a problem and will eventually lead to leaking. If you notice any ponding (a large pool of water) on the surface of your fibreglass roof. Or any different colour of patches normally accompanied with a dirt stained ring around the circumference your roof is very likely to be suffering from ponding.
Alligatoring
Every fibreglass roof has its expected life span. Depending on the GRP system you have this can be anywhere from 20 to 50 years. Once your roof reaches this age its elasticity begins to wane. The visual result of this is your roof starting to shrivel and to look like the scales of an alligator (hence the term alligatoring). Unfortunately, if your roof is suffering from this problem the only solutions is a complete roof replacement.
Cracking/Flaking
Sometimes the top coat of a fibreglass roof can begin to crack and flake. This is normally a problem which occurs because when the top coat of the roof was applied it was done so whilst the top coat of the laminate was still wet. The way in which this issue is fixed is by reapplying the top coat to your roof.
Pinholes
Extremely small pinholes occasionally develop on the surface of your fibreglass roof. The cause of this is not enough resin being used when the roof was installed. The way this problem is rectified is by sanding the roof and ensure the correct amount of resin is used. If this problem is not taken care of the integrity of your roofing structure will slowly deteriorate until it begins to leak.
The guttering on flat roofs are more prone to becoming blocked than pitched roofs. The way to avoid gutter problems is to regular maintain your roof with roof sweeping and cleaning your gutters. This will prevent the build-up of water in your gutters and roofing system which can lead to leaks.
Surface Splits and Holes
The surface of Fibreglass Roof can suffer from splits/holes. How this problem is resolved will depend upon the state of the wood decking below the fibreglass. If the decking is in good condition and is dry fibreglass roof repair is possible. The repair process would be straightforward, the roofing contractor will just need to re-apply the fibreglass.
But if the decking in in bad condition and damp it is likely repairs will not be possible to the existing system and a full roof replacement will be needed
If you believe you need some fibreglass roof repair work or you need some advice regarding your fibreglass roof , please get in touch with The Roof Repair Line or call us now on 01277 375 511 one of our expert team will be happy to help.